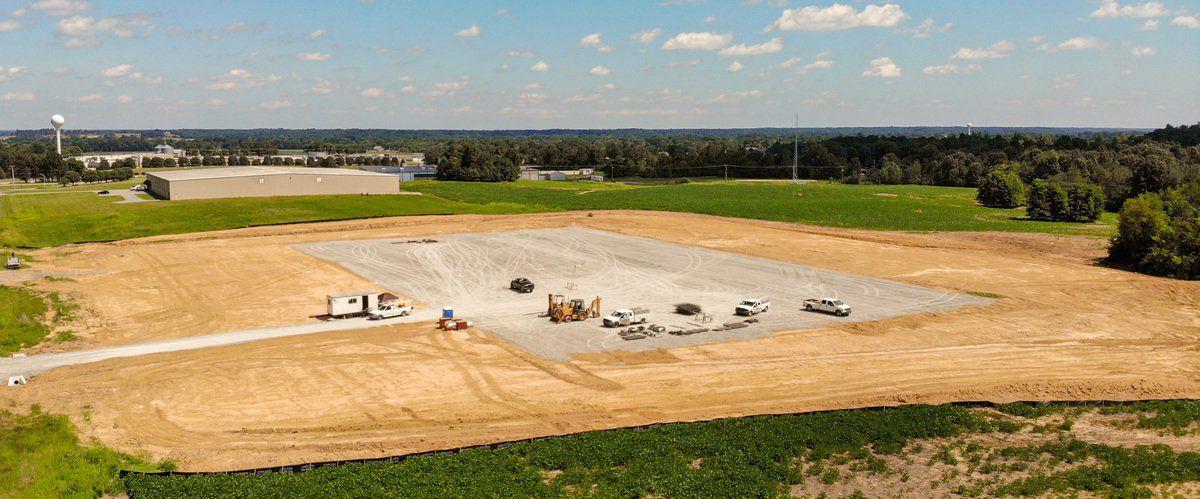 Developers spent a lot of time planning and designing the building, which GCED hopes will attract a company that will use the space for advanced manufacturing. Then they moved quickly with construction, announcing the project in May and breaking ground in July. By next spring, it should be done, but it's already being marketed to potential tenants.
"We've had quite a bit of interest," Drane said, saying GCED has already marketed it to four companies. "We feel like we've got a big competitive advantage with this building. It's the largest spec building west of I-65."
The steel frame building, done in varying shades of gray, will be 33 feet high at the eaves and 47 feet high at the peak, making it tall enough for businesses that use cranes or need space for warehousing. It will have a gravel floor, options for internal or external office space and is laid out on the property so that it can be expanded up to four times its original size.
"We've got the dirt work done, and we're going to start digging footers this week," Drane said. "April 2020 is our target to be completed, weather dependent, of course."
The building is expected to cost $3 million to complete. The main sources of funds to construct it come from federal and states grants, as well as funds from the sale of other real estate GCED owns. No funds from the Graves County Fsical Court are being used on the project, Drane said, although a portion of the grants will flow through the fiscal court for public reporting purposes.
The building was also made possible, in part, by legislation that is for the first time allowing counties where the Tennessee Valley Authority has assets to recapture TVA in-lieu-of tax money and target it specifically toward economic development. Drane testified in front of the General Assembly last year in favor of the legislation. He was the only community-based economic developer asked to do so.
GCED is open to selling the building outright or through a long-term lease, whatever scenario is best for the company and community, he said. Drane sees it as particularly suited to the needs of transportation-related suppliers, whether that be in automotive, aviation or aerospace, food production or companies related to the processing and production of finished goods for the hemp industry. It doesn't hurt that hemp processor GenCanna is building its $60 million hemp processing facility just down the road, he said.
GCED also kept in mind the location, strong agricultural base and workforce skills of Graves County residents when planning for the spec building. The organization also consulted with several site developers, asking them if this type of building would have fit the needs of companies they have recently worked with.
"There are spec buildings throughout the state, but there are not that many that are this size or larger," Drane said.
That is important because of the way companies select where to locate their facilities, he said. A few years ago, he said, cities and counties needed large plots of marketable land with access to utilities. Now, he said, that's not enough. Companies often have contracts secured with larger manufacturers before they ever build their factories and are working toward a contract deadline. They have tight timetables and want to avoid unnecessary obstacles. An example might be a brake pad manufacturer who signs a contract with Ford to provide a certain number of brake pads per month by a certain future date and needs to ramp up operations.
More than 90 percent of companies now begin their site selection search by looking for available buildings, not land, Drane said.
"You've got to have an extremely diverse portfolio," Drane said of what attracts businesses and brings in more jobs, always his ultimate goal. "You need bulidings that are highly customizable and expandable. You need property that is easy to develop. And you need sites that have amenities such as rail, interstate access, not just utilities to the site."